The list of the anime episodes and OAV.
Kouin Jojishi Tenshi Tan
Edit
A total of 13 anime episode that took place before Seijun Jourin Hen. It shows the life of the angels before they became adult and the events that took place that lead to their tragic result.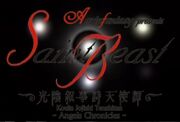 The Beginning
Light and Darkness of Angels
Forest of Darkness
Birth of Six Saint Beasts
The Legend of Tree Monster in the Human World
Angel and Demon
The Shadow that Shadowed Paradise
The Holy Ground of the Golden Wolf
Suppression
Messenger from Darkness
Purge
The Dark Holy Spirit Ceremony
Case of Hope
Ikusen No Hiru To Yoru Hen
Edit
A short anime, 55 minutes and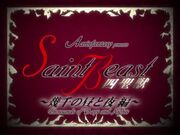 40 seconds to be exact, featuring the history of the angels: from when the angels were still young, when Goh and Gai met Shin for the first time, Rey introducing himself to Luca, that it was actually Judas who introduced the idea of purge to Zeus and how Judas and Shin met. Then the tragedy that affected everyone to the core.
Seijuu Kourin Hen
Edit
A total of 6 episode of
anime where it explains the result after Judas and Luca has escaped their hellish cage and seeks revenge on those who did them wrong.