Name - Saint Beast: Rasen No Shou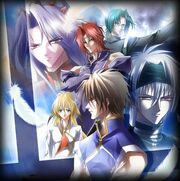 Japanese name - セイント・ビースト~螺旋の章~(限定版)
Platform - PS2
Produced by - Marvelous Entertainment
Release Date - September 20, 2007
Genre - Action, BL
Availability - currently out of stock
Four Saint Beast descended to Earth to investigate the cause of the mysterious disappearance of Guardian Angels. At the behest of the Goddess of Heaven, the hero (the character you are playing) is the liaison between the Heaven and the four Saint Beast stationed in Earth. You have Guardian Angels also searching for clues and help the Saint Beast figure out the mystery...
Highlights
Edit
Game characters were voiced by the same voice actors from the OAV
Player can customize the name and change your hero's gender: Female or Male
Leads to various multiple endings, depending on the choices made by the hero (the player of the game)
You can choose which characters you want to hang out with to deepen your intimacy level with them
There is also a Flow chart system where you can see the scenes you have encountered and other options where a different scenario will play. With the Flow chart, you can go back and view those scenes you have not seen.