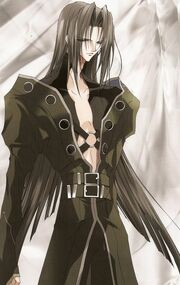 He was once the right hand angel of Zeus but for some reason, he was banished out of Heaven.
Appearance
Edit
He has an all - black appearance: waist length, black hair and black angel clothes.
Personality
Edit
Little is known of him since he only appeared a few times in the anime.
There are a few scenes where Lucifer appeared. One of those is in Judas ' dream. In his dream, he was still a young angel and he was playing with a younger version of Luca when Lucifer, along with Gabriel, appeared. The other Saint Beast characters are there as well (although he did say to Shin - when he was retelling his dream - that even though he did not meet Shin and Rey during their younger years, they were present in his dream as well) and that Lucifer and Gabriel were checking on the young angels. He appeared to be very kind and Judas look up to him with respect.
The other scene where he appeared was when Judas and the other Saint Beast were out looking for the culprits. Judas (then, an adult angel already and is the current leader of Saint Beast) is alone when he felt a strange aura (Shin felt this too) and out appeared Lucifer, who has not change in appearance but in attitude and behavior. Here, he is trying to convince Judas to join him and fight against Zeus and build their own paradise: Hell. Judas of course refused but Lucifer believes he will soon change his mind and then disappears. After that event, he no longer showed up.
He is said to look a lot like Sephiroth (villain from the game Final Fantasy VII) except with the hair color (Sephiroth's hair is silver)
He is also rumored to be Kira and Maya's father